Space Coast Advertising Execs Meet with Florida Legislators for Ad Day 2015
The Space Coast chapter of the American Advertising Federation (AAF Space Coast), attended Ad Day in Tallahassee this week during legislative special session, meeting with State Senators and Representatives to advocate for the advertising industry.
President Eric Needle, President-Elect Madison Conradis and Government Relations Chair Bill Williams represented the members of the Space Coast along with leaders for AAF District 4, which includes over 1,000 agencies, creatives and those who support the industry through services like printing, web design, audio, video, promotional products and so much more. News media, print publications and magazine publishers are also a huge component of the club membership.
"One of the main focuses of AAF is to be the unifying voice of all the people and businesses that serve the advertising industry and their clients. The not-for-profit organization is best known for their yearly American Advertising Awards, or ADDY Awards, which recognize excellence in all we do," Eric Needle, AAF Space Coast President, relays.

He goes on:

"It was an amazing session. Our delegation met with all of our State legislators this trip, including Senate President Andy Gardiner and Ryan Smith from House Speaker Steve Crisafulli's office. We connected with representatives Ritch Workman, Tom Goodson, John Tobia and Senator Thad Altman's office."

"The Space Coast has a rare connection to leadership this term, and our team had an excellent session at a time when few organizations were in the Capitol."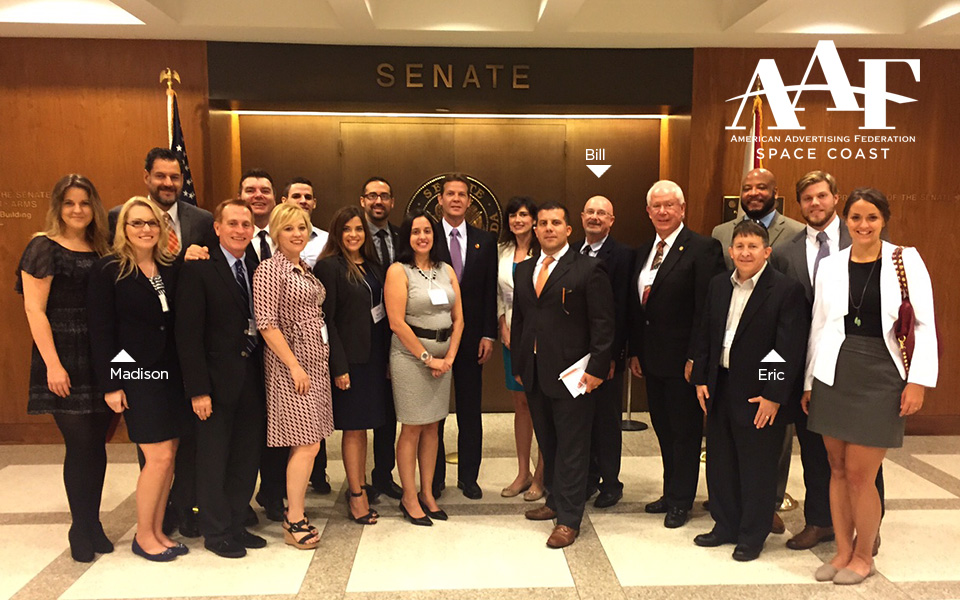 ---
The main message of the trip was that advertising is often a leading indicator of the state of our economy. The 'canary in a coal mine'—our small businesses feel the upswings and downturns as our clients focus on advertising (which we feel as growth)—or ignore it.
---
We know that to grow business, you need to promote yourself. We were pleased to report that many of us see the economy improving. With no legislation affecting us either way, we appreciate the focus on growth and have seen benefit from efforts like Enterprise Florida and Grow FL. Because our businesses are not directly related to how these efforts show their value, it's important to show our support.
A percentage of our members are connected to the film industry. The intent of a bill that failed to become law this past year was to provide tax incentive to the film industry so that Florida can compete more favorably with our neighbor to the north, Georgia. These members' efforts have created a booming film industry, with over 33 television and film projects being produced. We see the success of "The Walking Dead," and wonder why more productions happen north of our border. We also see talented people, friends and family, moving to Atlanta to find work.
In an example that seems absurd to those who see growth and jobs as a priority, Ben Afleck, A-list Hollywood actor, director, and producer, is building a replica of Ybor City, Tampa's landmark historic community, being constructed in Brunswick, Ga., as we speak for a film about that city in the prohibition era.
AAF expressed our concerns, and legislators helped us understand why they think the bill never made it to a final vote. Some issues take years to resolve, and our takeaway is that many see an investment that offers incentives to even the playing field and work to bring back creative, high paying work to the State of Florida.
Those who participated – and we had an amazing showing of volunteers this trip – got a crash course in how state government works and the value that advocacy has to our clubs, our businesses and our clients.
We invite those who are in business and those in the business of advertising to get more closely involved with AAF. Our goal is to grow business and opportunity by connecting companies with the talent Brevard County has to offer.
---
About American Advertising Federation – Space Coast
The American Advertising Federation, Space Coast Chapter, is a non-profit professional trade association serving the local advertising community. Members of the group volunteer their time and talents to plan and execute committee events to benefit local charities, contribute to the success and growth of local professionals, and promote ethical advertising in the community. AAF-SC takes pride in offering quality educational programs, award winning public service campaigns, networking opportunities, fun-filled social events and much more.
For more information, visit aafspacecoast.org
###
Contact
Stephanie Herndon
Communications Chair
American Advertising Federation – Space Coast
321.242.3851
sherndon@floridatoday.com