Performance Marketing 101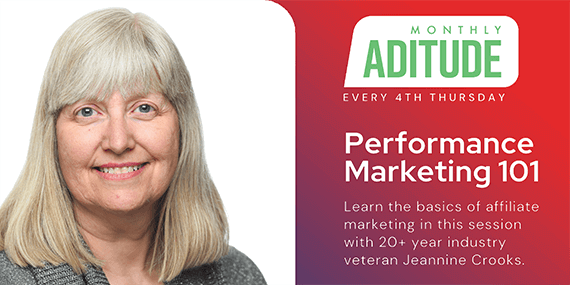 Thursday March 25, 2021
9:00 – 9:05AM: Intro
9:05 – 9:35AM: TALK
9:35 – 9:50AM: Q&A
Learn the basics of affiliate marketing in this session with 20+ year industry veteran Jeannine Crooks.
A recent PriceWaterhouse Cooper study placed placed the ROI of an affiliate program at 12:1. In a $6 billion industry. Given this opportunity for incremental growth, could an affiliate program be right for your company? This session will examine the factors involved in adding an affiliate program to your marketing mix, including the different types of programs (in-house vs. affiliate networks) including costs and staff demands, affiliate recruitment, working with influencers, coupon, mass media publishers, and insights into what other major organizations did to sustain their businesses through difficult times. The session includes time for a Q&A period.
Speaker Bio:
As the Partner Acquisition & Development Manager with Awin US, Jeannine works closely with many of their largest programs such as Viator, Etsy, Motley Fool, and HP. She is a frequent speaker at numerous events including TBEX, SATW, CardCon and Affiliate Summit. Jeannine works with all types of publishers, especially bloggers, helping each to maximize their affiliate earnings. With 20 years in affiliate marketing, including 10 years at Awin, she is always happy to share her knowledge to help others succeed in the industry she loves.
Jeannine, her photographer husband Brad, and their Siberian Huskies, Cody and Hunter, live south of Denver. They travel as often as they can, especially for their new passion, dogsled racing.

Connect with her on Linkedin Jeannine Crooks.