AAF Space Coast Earns National Club Achievement Award for Government Relations
The American Advertising Federation announces 2016 Club Achievement winners.
2016 Club Achievement Award winners were selected earlier this month, awarding 46 of the American Advertising Federation's (AAF) member clubs across eight categories of entry. Winners were honored at The Salute to Achievers Ceremony at ADMERICA, the AAF's annual national conference, in June in Anaheim, California at the Disneyland Resort.
AAF Space Coast earned Second Place for recognition of their work in Government Relations.
At their annual trip to Tallahassee, Ad Day, District members advocated for the diverse group of small businesses that make up the advertising industry. AAF – Space Coast, was represented by President Eric Needle, President-Elect Madison Conradis, and Government Relations Chair Bill Williams. The group led efforts to secure meetings with Senate President Andy Gardiner and House Speaker Steve Cristifulli's office.
"We brought a delegation of eighteen members to State leadership, to discuss issues that affect the advertising industry." Eric Needle relates. "We also met with four of our local reps, Ritch Workman, Tom Goodman, John Tobias, and Thad Altman's chief of staff."
"For our club, we brought back the message of how representative government really works. When groups of like-minded people work together, their collective voice can be heard. Our efforts in Tallahassee fulfilled two of our club's major mission goals; advocacy and professional development. Those who participated bring home a much greater understanding of State government and the value of teamwork and collaboration."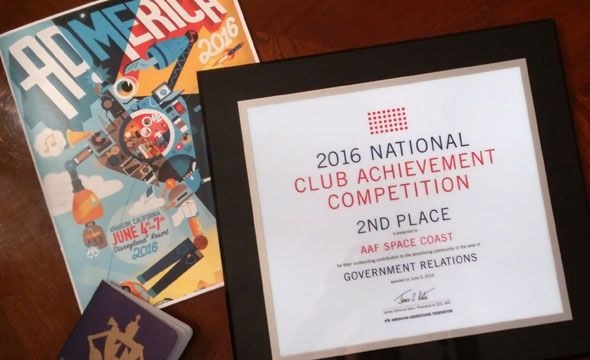 The AAF's Club Achievement Competition is designed to recognize outstanding accomplishments of its affiliated advertising clubs, showcasing the programs and projects its professional member clubs undertake each year. It was established to honor significant contributions to the AAF network of professional advertising clubs and to encourage excellence in areas of club operations that strengthen the AAF's member clubs.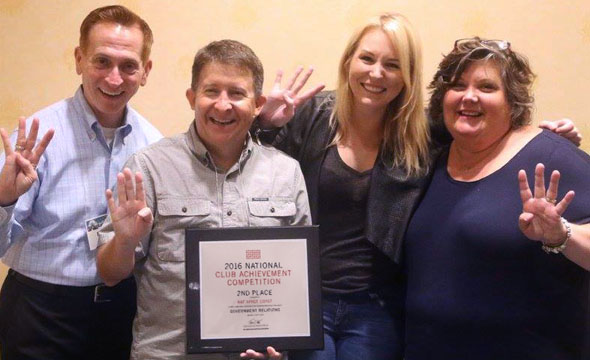 Pictured: Barry Wallace, District 4 Governor, Eric Needle, Madison Conradis, and Emma Richard.
"This year, there were nearly 300 entries," said Joanne Schecter, Executive Vice President, AAF Club Services. "This outstanding work represents hours upon hours of dedicated volunteer time. The award winning work is a testimony to the successful programs and projects our clubs launch every year."
Intended to recognize excellence and encourage high standards among industry professionals, the Competition awards local advertising clubs for their initiatives in eight categories: Advertising Education, Communications, Club Operations, Diversity and Multicultural Initiatives, Government Relations, Membership Development, Programs and Public Service. Clubs with the highest total winning scores are awarded the distinction of Club of the Year and includes the honor of President of the Year.
For all the winners, visit http://www.aaf.org/
---
About American Advertising Federation – Space Coast
The American Advertising Federation, Space Coast Chapter, is a non-profit professional trade association serving the local advertising community. Members of the group volunteer their time and talents to plan and execute committee events to benefit local charities, contribute to the success and growth of local professionals, and promote ethical advertising in the community. AAF-SC takes pride in offering quality educational programs, award winning public service campaigns, networking opportunities, fun-filled social events and much more.
For more information, visit aafspacecoast.org
About American Advertising Federation
Established in 1905, the American Advertising Federation (AAF) is the only organization that includes members across all disciplines and career levels in advertising.  The American Advertising Federation protects and promotes the well being of advertising. We accomplish this through a unique, nationally coordinated grassroots network of advertisers, agencies, media companies, local advertising clubs and college chapters.
For more information, visit aaf.org