Light the Lantern Hygiene Supply Drive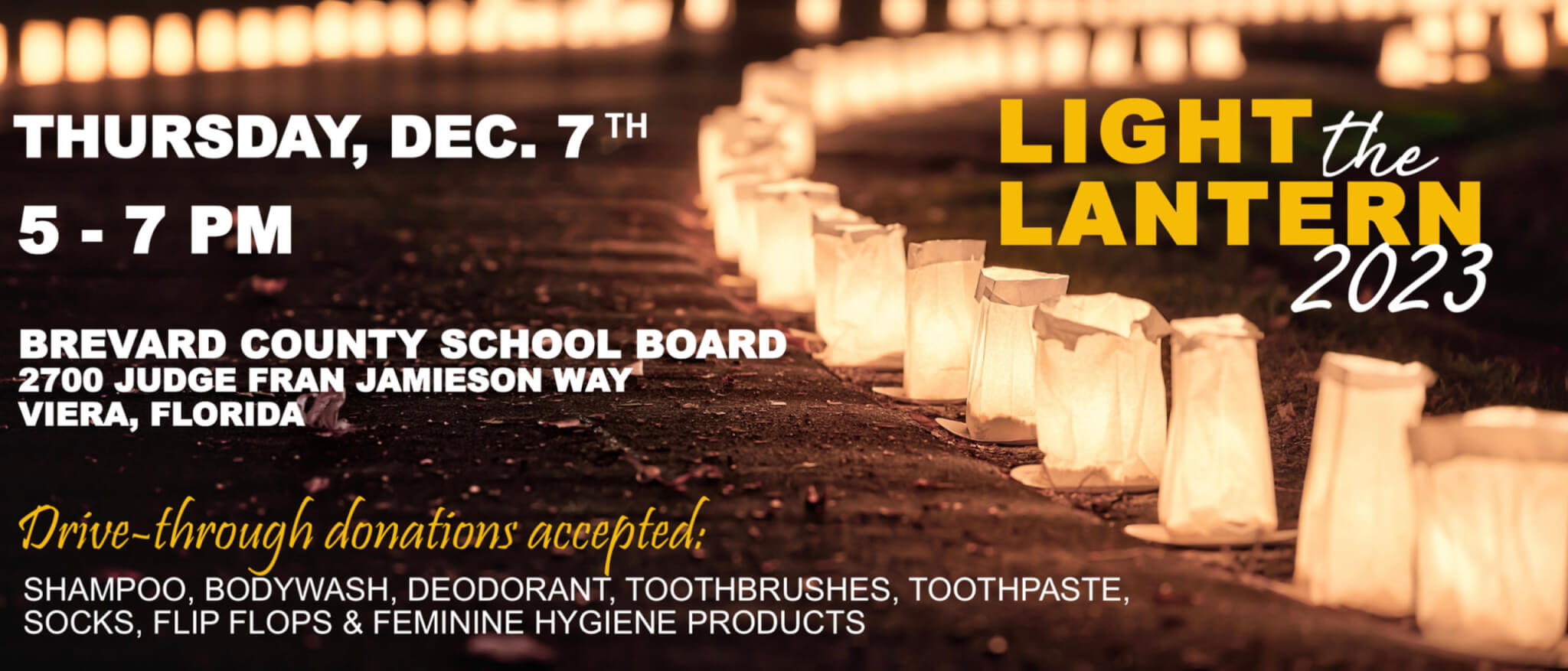 Light the Lantern hygiene supply drive to restore hope & dignity to in-need students
VIERA, FL— During this festive time of year, many people are focused on "extra" things in life. Unfortunately, there are many children and teens in our community who go without the most basic necessities. Things like toothpaste, deodorant, soap and feminine hygiene supplies are products that homeless and low-income families simply cannot afford. The heart-breaking results can be low self-esteem, embarrassment and shame often leading to isolation and feelings of hopelessness for these youth.
To help alleviate this issue, Brevard Schools Foundation (BSF), along with The Viera Company and other community partners, are co-hosting a new event titled, "Light the Lantern," on Thursday, December 7 from 5-7 pm at the school board building located at 2700 Judge Fran Jamison Way, Viera.
The community is asked to rally around this cause and bring donations of hygiene products to this drive-through event. Participants will be treated to a luminary trail adorned with special holiday sparkle as they pull up to the contact-free drop off location. Suggested items are new packages of soap, shampoo, deodorant, toothpaste, toothbrushes, feminine hygiene products and body wash. Monetary donations will also be accepted.
All donated items will be distributed to homeless and low-income students through the Supply Zone for Teachers, a service of Brevard Schools Foundation. The Supply Zone for Teachers, located in Cocoa, serves the highest poverty schools in our county.
"Far too often, teachers tell me about students who will stay home because their clothes are dirty and they can't afford deodorant or toothpaste," said Elizabeth Schreiber, Supply Zone program manager. "These kids are so afraid of being teased about how they smell, they'd rather miss school than face their classmates. I even had one teacher tell me about a student who was so excited to receive her very own toothbrush; apparently, she'd been sharing one toothbrush with all her brothers because her family couldn't afford to buy more."
"Hearing that a student was so thrilled about a toothbrush – something most of us take for granted – really brings into focus the struggles these kids face. That's why I'm beyond grateful to The Viera Company and our other community partners for supporting this event," added Schreiber.
The Viera Company is supplying hundreds of luminaries that will be used to create the lighted path.
Other businesses and organizations supplying assistance to this event are Viera Community Institute, Fairway Management, iHeart Media and American Advertising Federation Space Coast.
For more information on "Light the Lantern" or how to donate hygiene supplies, contact Dr. Cindy Schmitt at Schmitt.Cynthia@Brevardschools.org or (321) 633-1000 ext. 11756.
###
ABOUT BREVARD SCHOOLS FOUNDATION:
Brevard Schools Foundation fills educational funding and opportunity gaps at all of our 85 public schools for 75,000 students and 5,000 teachers by supporting innovation, engaging communities, and changing lives. Funds come from private contributions, corporate support, public matching funds, fundraising and endowments. The Brevard Schools Foundation is nationally ranked for their role in supporting public education in Brevard County.