2021 American Advertising Awards Show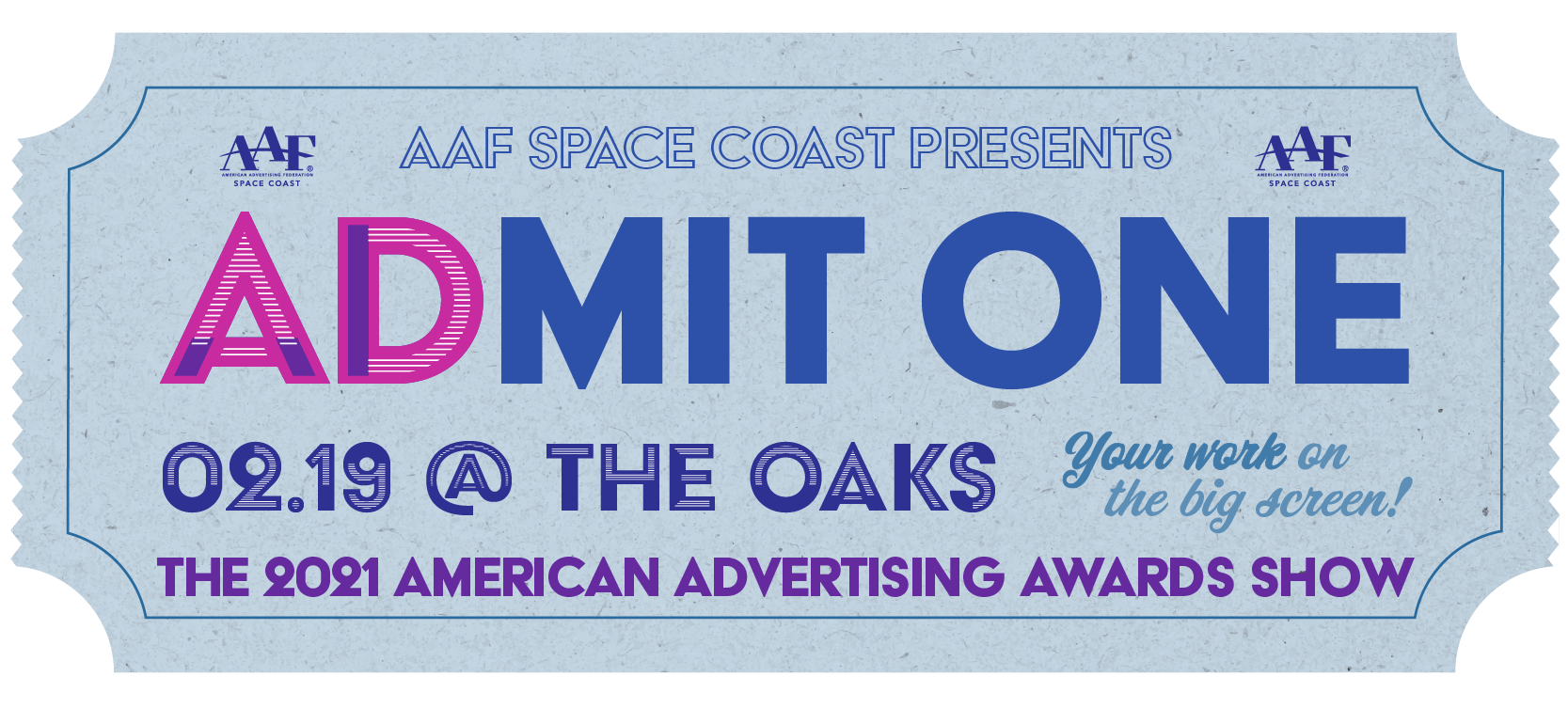 AAF Space Coast presents
ADMIT ONE: The 2021 American Advertising Awards Show
Where your work is the star on the big screen!
We are celebrating the best of creative excellence in advertising on the Space Coast at this year's annual American Advertising Awards show, home of the coveted ADDY Award! Join us as we celebrate this year's award-winning work and its creators on
Friday, Feb. 19, 2021
Starting at 6 p.m. at the Oaks Theater
Start with popcorn as we catch chapter highlights and watch the reel of winning entries. Then move to the upstairs balcony for dinner as the winners receive their awards and we find out who won the special Judge's Choice, Best Of Category and Best Of Show trophies. Social distancing and proper mask usage will be observed during the event (see below).
---
Dinner is included
Dinner will be catered by the delicious local favorite Hemingway's as individually boxed meals for reduced contact. Your meal options are:
Cuban Sandwich
Garden Stack Sandwich (V)
Key West Bowl (GF) with optional pork, chicken or sautéed veggies
All dinner options include plantain chips, a small house salad and creamy key lime pie for dessert.
---
Tickets
Tickets are $50 each. Hurry—the RSVP deadline is Feb. 12! Ticket sales are now closed.
---
COVID-19 Precautions
In an effort to quell viral spread, we ask that attendees properly wear their masks unless seated with social distance and actively eating or drinking. Dinner will be served in individual boxes for reduced contact and as an easy to-go option if anyone would prefer to not dine in public at this time. Tables will be small high-tops to keep groups small and spread out. Masks and hand sanitizer will be available, courtesy of The Viera Company, to ensure that every attendee will have access to these items during the event.